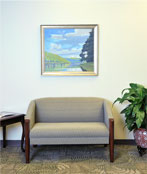 We Don't Dabble
The same lawyer or law firm that has developed experience in estate planning, real estate, general litigation or possibly all of these areas may not be the right choice to advise or represent you in a matter that focuses on oil and gas, environmental or energy law. What separates Saunders Law from other law firms is that our practice is limited to a group of interrelated areas of law. We don't dabble. Saunders Law is devoted exclusively to matters involving the law of oil and gas, the environment, natural resources, energy, and dispute resolution in these specific areas. Has your lawyer written articles on the areas of law in which he or she practices? Is he or she asked to educate fellow lawyers on substantive law? Does he or she provide you with current news and information regarding the areas of their practice? If you cannot answer 'yes' to all of these questions, please continue reading and consider Saunders Law.
Building Relationships Matters
We become invested in our clients by building and maintaining ongoing relationships, in many cases long after our professional engagement may have ended. We believe it is important to create synergy with our clients and repeated engagements and referrals by those we have served validate this belief. At Saunders Law we strive to provide creative, efficient and cost-effective solutions to transactional or litigation matters in our core practice areas. After working with us, we think you will agree that "Synergy + Solutions" aptly defines our relationship with and what we deliver for our clients.
We Earn The Confidence Of Our Clients
We think you will find that Saunders Law offers a breadth of knowledge and experience and a level and quality of service that is unmatched. If you have a question, send it to us using the convenient contact form on our Home Page. Read our Blog which features information and our opinions on oil and gas, mineral rights, environmental and energy issues. Learn The Client Advisory link is where you will find the latest news on regulatory and legislative topics. Providing you with current and constantly updated information is just one of the value-added services provided by Saunders Law. We hope you will be a frequent visitor.